Customer Reviews
09/04/2020
Miss A.
United Kingdom
Perfect
Lush lovely amazing!! Highly recommend xx
07/23/2020
Miss S.
United Kingdom
Second tub
I really like this it leaves your skin super soft and luxurious.
07/06/2020
Miss S.
United Kingdom
Fantastic
Good product will definitely buy it again.
07/03/2020
Alleah F.
United Kingdom
My skin has never felt so smooth
I don't usually review products. However, I just had to with this one! The body scrub protection has made my skin feel amazing. The ginger oil element leaves my whole body feeling super moisturised and extra soft. I have sensitive skin and this has worked wonders for me. I can't get enough of it, I will be buying more. Highly recommend! 5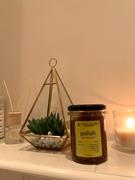 06/27/2020
Christabel O.
United Kingdom